Podcast: Play in new window | Download (Duration: 25:26 — 14.7MB)
Subscribe: Google Podcasts | Stitcher | Email | TuneIn | RSS | More
Episode two hundred sixty two – part four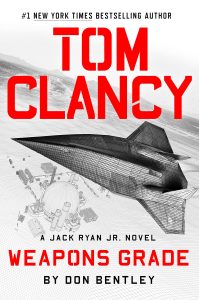 The quiet of a Texas night is shattered by the sounds of screeching brakes, crumpling metal and, most shockingly, rapid gunfire. The auto accident Jack Ryan Jr thought he witnessed turned out to be a professional hit. Jack is drawn into the seedy underbelly of a small, Texas town and the cold case of a college student who vanished from its streets. Jack is left with nothing but questions. His quest for answers will take Jack from a quiet Texas road to the middle of an international conspiracy and may just cost him his life.
Weapons Grade is everything you would expect from a Tom Clancy book – lots of action, lots of high tech and the highest of stakes.
New York Times bestselling author Don Bentley spent a decade as an Army Apache helicopter pilot. Following his time in the military, Don worked as an FBI special agent focusing on foreign intelligence and counterintelligence and was a Special Weapons and Tactics (SWAT) team member.